Shipment of your parcel
Parcels are usually shipped 2 days after we receive the payment of your order. They are sent by regular post (French post) or by DPD or selected carriers for overseas shippings, to your address. Please note that delivery to points of collect is only available in France. Whatever the delivery option you choose, we will send you a link to track your delivery online.

Shipment and postage fees include handling, preparation and postage fees. Handling fees are fixed, while cost of shipment varies according to the total weight of the parcel, the destination, the shipment mode selected and the total price of your order. We recommend that you group all your products in one order as we cannot group to different orders in one delivery. In case of multiple orders, we will charge shipment fees to each of them. The parcel is shipped at your own risk, but we want to ensure you that we take special care of fragile products.

Except for DELIVENGO shipments which do not include any insurance and are not liable for reimbursment in case of loss or deterioration, all transport prices include : insurance on transport, delivery at home, customs clearance when applicable. Please note that overseas shipments are limited to 5 kg.

All your articles are carefully wrapped and packed in appropriate boxes.

However, if for any reason you want to return an article to us, please use the option available in your private space "My account". We will send you all the details and instructions to return the items. Compliant with the French legislation, you can return a parcel up to 14 calendar days further to receiving it.

Madacha has chosen to re-use existing packaging when possible as we want o contribute in reducing the volumes of cardboard which are thrown away. If you want to know more about our action, please browse our page "about".
Prices

Available transport services

Standard delivery (2-3 days) - Prices

.Express delivery (1 day) - Prices


Available transport services

Zone 1 : Germany, Luxemburg, Belgium and Netherlands

Delivery time: 2-4 days according to country.
Zone 2 : Austria, Denmark, Spain, Ireland, Italy, Portugal

Delivery time: 3-6 days according to country.
Zone 3 : other EU countries and EU islands.

Prices

Delivery time : 4-10 days according to country.

Available transport services

Prices

Delivery time: 3-6 days.
.

Shipments to the UK include export customs processes further to Brexit on 01/01/2021. Please note that the franchise on customs duties is usually limited to 135 GBP for individuals. Import customs processes and taxes are to be carried out and paid by the buyer. If we notice your order exceeds the customs franchise, we will do our best to contact you before shipping your order to know your instructions.
Available transport services

Heavy or bulky orders are shipped exclusively with FedEx/TNT (e.g : barbecues)
Prices

Delivery time : Colissimo : 3-6 days / FedEx : 3 days

Available transport services

Delivengo service
This service is available only for parcels up to 2 kg and does not include any insurance.

Delivery time: 8 to 20 days according to country.
Happy Post service (Chronopost or similar)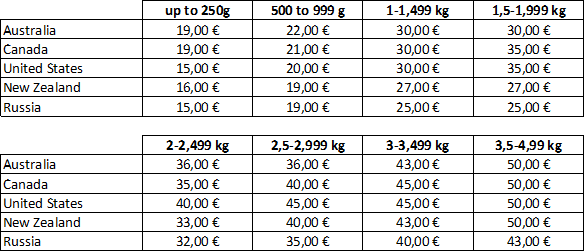 Delivery time: 4 to 15 days according to country