A Russian vegetables garden in the South of France
As dacha is the place where Russians spend most of their weekends from March to October at least, it is a place for life, where the garden and the vegetable garden hold the central place. We would like to share this way of life, mixing outdoor life, home-made production and conviviality with you, through our blog and our shop where you will find related products.
A Russian vegetables garden in the South of France
Publié le : 04/30/2018 16:15:00
Catégories : Hobbies , Kitchen Garden
March 1st is generally considered to be the first day of spring in Russia: it is the moment when seeds, plants and all necessary accessories for gardening turn back in supermarkets and along the roads. Indeed, Russia has long had a tradition to grow food crops at home, much more developped than in Western Europe. Any square meter in a dacha or a garden is used to grow vegetables, fruits and herbs. One of the main reasons being the need to grow your own food during tough periods, whether during Soviet era or not.
xxx

Tomatoes in a Russian dacha - Pixabay @ Irina_kukuts
xxx
From the beginning of March, it is possible to buy seeds and bulbs anywhere, a few weeks later you can buy young tomato or cuncumbers plants to transplant: a majority of people still grow seeds and transplant the plants they get, however, an increasing number of people do buy already grown plants - such as the ones we can find in dedicated shops here - in particular from babushkas who sell them at markets and in the streets.
xxx
Cropping does not mean improvisation : a few months to a few weeks before seeding, people start accumulating plastic bottles, which are cut to make seeds pots, sometimes they buy large plastic glasses for the same purpose. I rather seldom saw people buying seeds pots while I lived in Russia, re-using or recycling bottles for another purpose is really in the genes of people. Once the seeds are put in the earth, pots are aligned along the windows in all the rooms of the apartments and houses, which are still being heated for a few weeks, hence creating a greenhouse effect which has a spectacular impact on the hatching of seeds. You have to keep in mind that dozens of pots are aligned in many apartments, and the harvest is always planned to be plentiful. Some dachas litterally become real plantations. Actually, fruits and vegetables are eaten fresh during the summer, and preserved and jarred for the cold period. Some of my Russian friends end up harvesting up to 800 kg of tomatoes, so you can imagine the challenge... All the family is expected to plant, water and care the plantation.
xxx
As for us, we decided to try and copy this method at home : the small terrace and garden which we have in our apartment in Drôme (latitude 45th parallel) and the country-house of my parents in Ardèche (altitude 800 m) will be our laboratories. A few weeks after launching the experience, we had gathered a spectacular collection of seeds pots, from plastic bottles, juice packs and cottage-cheese pots. Our friends and relatives were also called for support to provide some pots, as we decided to have a "Russian" production, meaning it should be plentiful. We also collected plastic crates from local shops (some give them away for free) to manage the seeds pots and ease handling.
xxx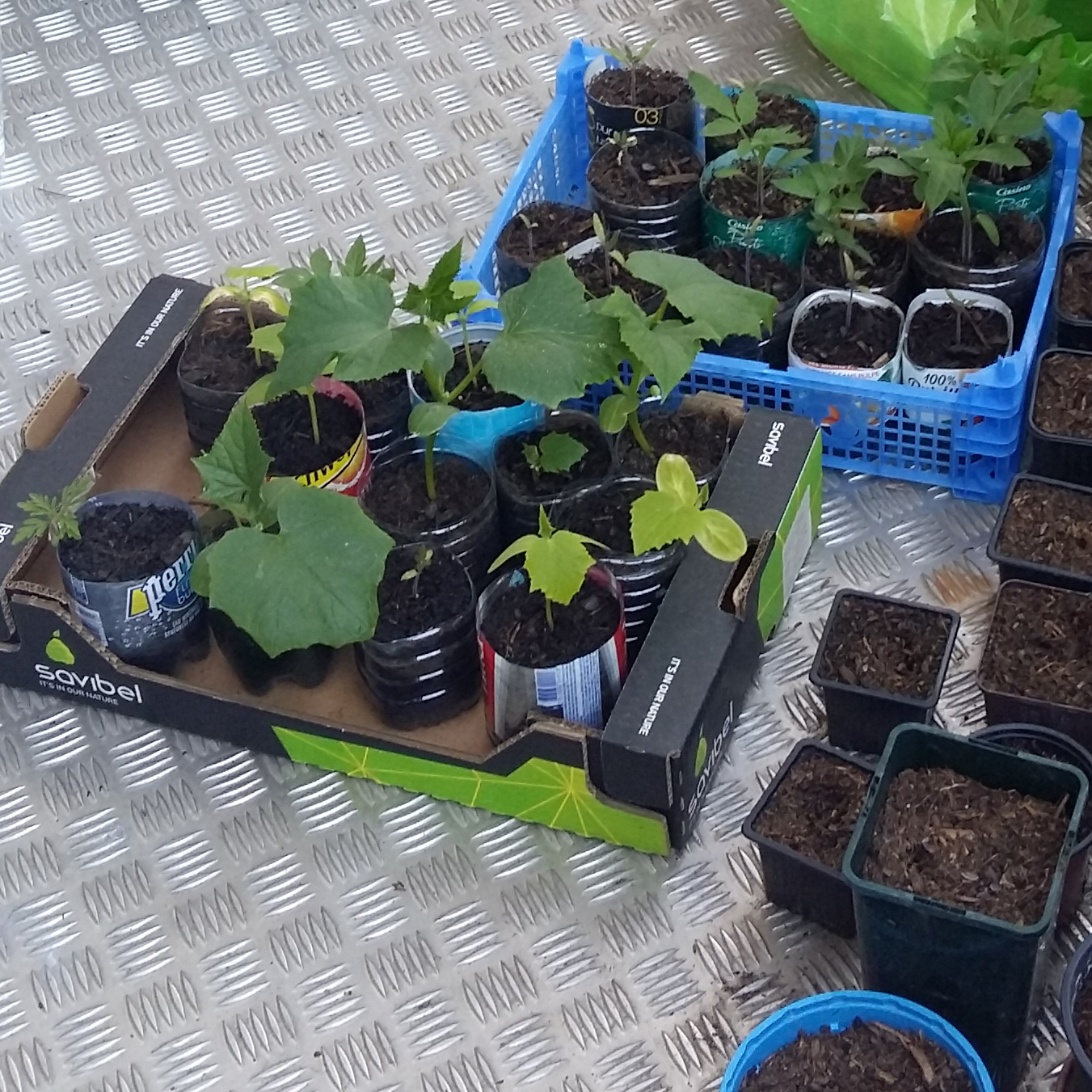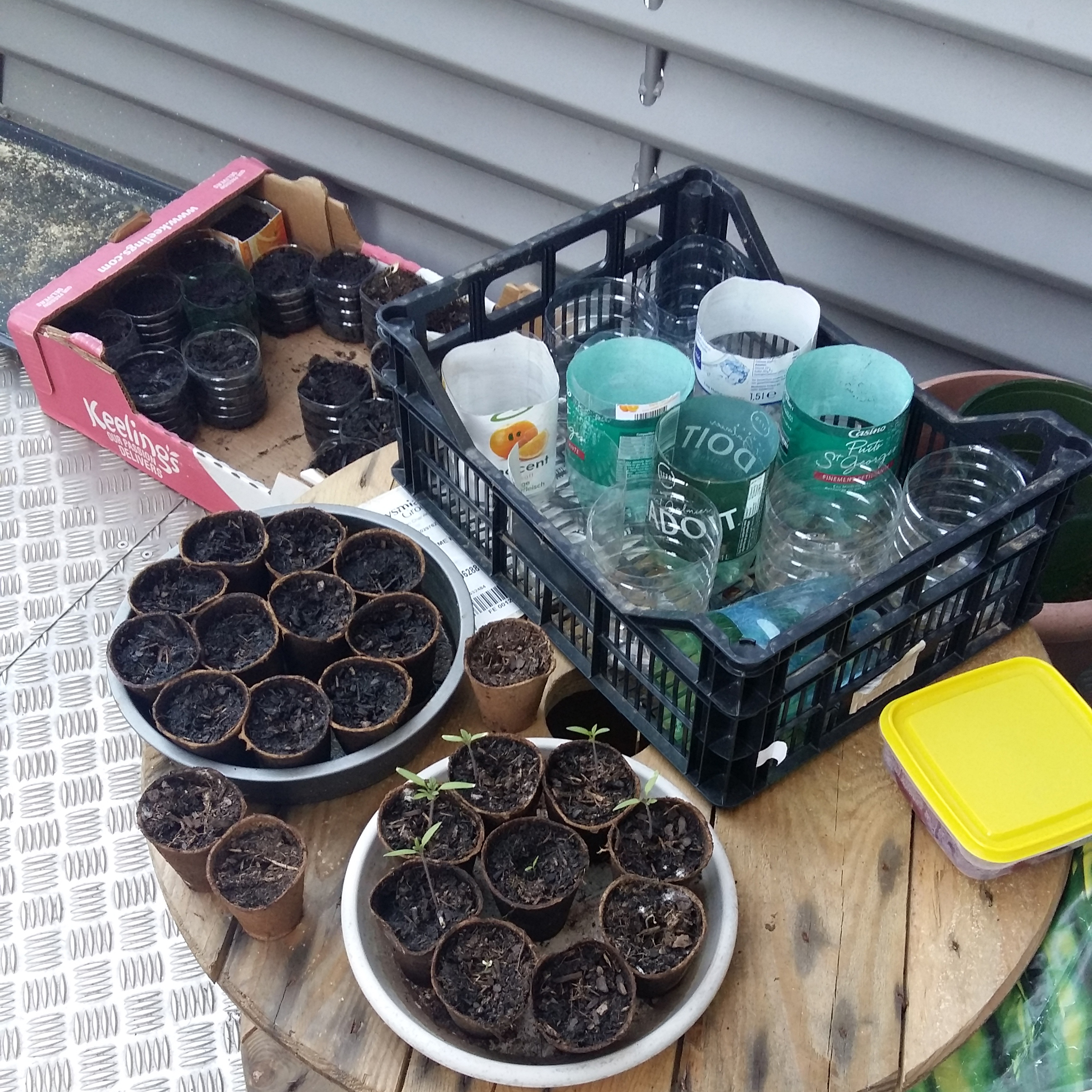 Madacha experiment : the logistics and the first results... We are also testing the small seeds pots which I bought in a previous trip to Russia in addition to plastic bottles and all kinds of pots we collected.
xxx
The seeds which we are planting were bought in Rostov-on-Don (South) and Togliatti (Center) markets : dill, spring onions, parsil, cherry tomatoes, black Crimean tomatoes, yellow tomatoes, cucumbers, radish, white radish, green peas and pumpkins will be in our plates from beginning of July for the earliest varieties if everything works out fine.
xxx

Some of our seeds: "Marseillaise" and Parisienne pumpkins, "Red candles" Tomatoes
xxx
We started to plant the seeds beginning of March to be in line with the Russian calendar. As of mid-April, we already had more than 25 tomatoes plants, and as many cucumbers ready to be transplanted. I must acknowledge that the high temperatures which we had back in April had a dramatic effect on the seeds, with plants growing very quickly. Since then, we have been hunting for pots to transplant some of the plants that were already too big for seeds pots. We already gave 2 dozens of plants to my family, and planted 12 tomatoes plants in Ardèche. These 12 plants will be a key indicator as the altitude (800 meters) and the strong changes in temperatures in the past 2-3 weeks will not be really favorable to them. However, they successfully resisted a major hail shower in the past days.
xxx

The first crate of tomatoes and cucumbers ready to plant, handed over to my family to grow them in their garden.
xxx
Once the first batch of plants is already planted, you may wonder what we did with the empty pots... Well, given the success of the first batch, we obviously decided to start a second batch... As we are (still?) not running a plant nursery, we should put our collection of pots and crates in the cellar after completing the second batch, but who knows...?
xxx
We will keep you posted about our local crops in the next weeks, and I am really curious to taste the Russian tomatoes and cucumbers that will grow under the merciless sun of the South of France...
xxx
For our experiment, we need :
Partager ce contenu